Recruit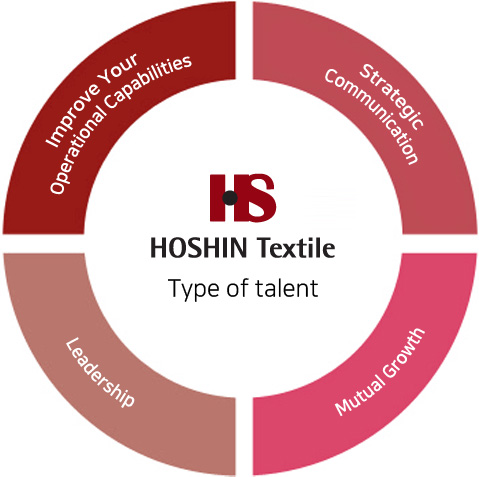 Since the company foundation, Hoshin Fiber has been devoted to producing polyester fiber for more than 30 years, and committed to R & D to provide high-quality products which can deserve customers' trust.
As a result, we are supplying high quality polyester fabrics to the domestic market as well as international markets-Europe, America and Middle East.
In a rapidly changing environment, Hosin Fiber has recognized the importance of software such as trends, printing, and material design as well as hardware investment such as equipment improvement and production equipment confirmation.
Even if we look at European companies, now called fashionable fashion powerhouses, we can see that only differentiation of software leads the world market. In line with these trends, we are looking forward to a renewed leap forward.
Terms of employment
01
Being active, responsible, sincere and creative thinking
02
Those who have no reason to disqualify their travel abroad
03
Excellent English, Chinese and Japanese documents and conversation
Required Documents
01
Resume (including photos, supporting fields and contact details)
02
Personal statement (career statement)
03
Portfolio (Design Team)
Recruitment procedure
STEP.03
Executive and Representative Interview
STEP.05
Date of employment negotiation
Recruitment inquiries
Personnel manager for Management Support Team Lee Jun-ho ( E-Mail : hoshin@hoshintex.com, Tel : 053.853.7207 )
Recruitment
Material planning
International sales
Outside machining
Quality Management
Welfare
Work
Implement a five-day work week
Vacation
Annual leave, Closed for the Foundation Day
Insurance
National pension, health insurance,
Industrial insurance
Compensation
Incentive, reward for outstanding employees,
Long-term continuous service employee reward